Post by quof on Jun 17, 2012 14:55:42 GMT -8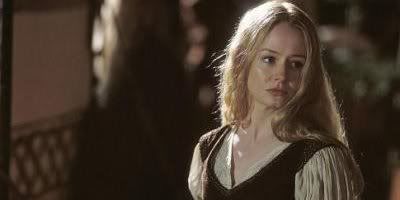 The nightingale in a golden cage
That's me locked inside reality's maze.
Name:Eowyn
Nicknames:Songbird(family), mare, The White Lady, Lady of the Shield-Arm
Age:24
Race: man
Alliance: Free peoples
Height:5'6"
Weight:118 lbs.
Overall Appearance:She's rather slender, but years of training have given her a wiry strength. She's not tall, but niether is she short. She's considered fair by most, with pale hair tht extnds to her waist and has just enough golden in it to capture the sun. Blue-gray eyes, fair skin, and soft, pale lips. Her eyes are warm and often have smile behind them. She's not striking, but that is part of her charm. She has a gentle beauty, but while she may appear soft and delicate, it would be unwise to treat her as such.
Pb:Miranda Otto
Likes: Horses-she's been riding since she was a little girl, and since it was her mother who first taught her, it holds a certain sentimental appeal for her. To her horses resemble freedom, and she often rides to relieve stress of to clear her head.
Fencing: It ws her uncle and cousin who first taught her, and she has worked hard at it ever since. She likes knowing that she can defend herself, and the sense of control fighting gives her.
Wind: Considering the climte and Geogrpahic location of Rohan they've never been short on this. She loves the feeling of it running through her hair, and she prefers open meadows to the confines of the castle any day.
Singing: She has often been praised for her beautiful voice, and she enjoys sharing her talent with others. She also loves the connection it gives her to her heritage and traditions
ChildrenShe's always been rather maternal, and though there their are not many children in the castle, she was well loved by the children in the villiage and enjoys thier company.
Her Family Her family consisted of her brother, her cousin, and her uncle. She loves them all dearly and was especially close with her brother. She would sacrifice anything, including her life and her freedom, to keep them safe
Dislikes:
Snakes She's not a supersticious person, but it seems to her if any animal were to have ties with evil, it would be a snake. She also associates them with Grima, but even without the way the way they move and that horrible hissing sound they make disgust her. She doesn't too many snakes around where she lives, but when she does, she finds a way to dispose of them.
Grima Wormtongue: She did not like Grima from the moment she met him, and though she made efforts ot be civil her always made her feel so uncomfortable. She was often suspicious of him, so when he was reveled as a spy she was sickened, but not surprised.
Suffering Eowyn cannot stand to see others suffering, whether it be physically or mentally. The very idea makes her sick to her stomach, though she has learned to control her own pain in order to help those in need.
Idleness She hates feeling like she is helpless to save those she cres about. As a result of her frustration she always has to be doing something, and she often feels as though she is not doing enough. What she htes even more is believing she can help, but not being allowed too.
Cold: She prefers warmer temperatures, as the freezing temperatures inside a stone castle remind her of a prison. She also associates winter with death and suffering.
Cooking: She hates feeling inadequate, and she's just never gotten the hang of this particular task.
Strengths: at least 3.
Weaknesses: at least 3
Goals: Protect her people and her family, bring honour to her parents' name
Fears: not being able to protect those she cares about,
losing her independence, Getting married to someone who treats her like a slave
Personality: At least two to three paragraphs describing your character's personality please. If it's a canon we'd like to see more. Also, we do check the wikis and stuff so don't copy and paste. We'll know.
Mother: Theodwyn
Father: Eodmund
Siblings:Eomer
Others: King Theoden-Uncle
Theodred-Cousin
Grima Wormtongue- former associate
History: At least three to fourparagraphs describing your character's history please. If it's a canon we'd like to see more. Also, we do check the wikis and stuff so don't copy and paste. We'll know.
Name:

username or how you'd like to be called by us.

Age:

optional

Other characters:

if applicable.

Where did you find us?Time Zone:RP Sample:

Show us a good sample. If applying for a canon, it has to be a sample with that character.

application created by Melly. Don't steal.